Who is Washuu-chan?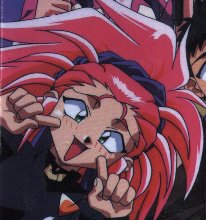 In OVA

Full Name: Hakubi Washuu


Physiological Age: 12 years
Acutal Age: Over 20,000 years
Height: 133 cm (4' 4 1/3")
Blood-type: B (?)
Hobby: Genetic engineering and science experiments of all types.

In the OVA series, Washuu is the number one genius scientist of the universe, with a very complex past... Over 20,000 years old, she was trapped by Kagato inside the Souja for the last 5,000 years, and "accidently" set free by Mihoshi.