Interests & Hobbies
Food

I enjoy eating food so much that I developed a habit of sampling foods around... I especially like to try different ethnic food. One of my favorite hang-out place with friends on the weekend is Old Town Pasadena, where lots of fine restaurants are. Since I like to eat, I am also into cooking. I'm not a great cook, but luckily I have a good friend who I can always consult with when I need to know how to make certain dishes---the recipe book. To find recipes for making wonderful dishes, check out Food TV Network.
Rollerblade
I am only a beginner in rollerblading, but I found this much easier than roller skating or ice skating. It's very easy to slide around in rollerblades, and it is REALLY fun! But you have to know how to brake and how to turn...or you'll end up with bruises all over, like me! To avoid this from happening, practice more & check out about how to rollerblade.
Hiking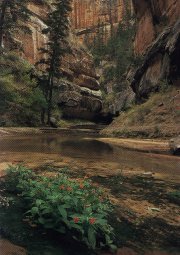 Nature hike is one of the best refreshing experience for the body and the soul. My favorite place for hiking of all times is Yosemite National Park. Unfortunately, it is too far away from where I normally am at, so I have to settle for the lesser mountains.
Music
I listen to all kinds of music: rock, pop, dance, jazz, classic, alternative, gospel and R&B. The only kinds of music that I don't listen to is heavy metal and country. I have not been to a concert by a non-Asian artist yet! I should definitely go to one this summer!
Badminton
I hardly play any sports that involve balls...I guess I'm ballphobic. The only "sport" that I play is badminton. Since badminton is a reflex game, it helps me to respond quicker. The downside is, you have to play badminton with a partner, and it'd better be indoors. For interesting facts about badminton, click here.

Back to front page