The New, High-Colored "Complete" Friends Desktop Theme Pack for Windows
---
Requirements: Windows 9x, Microsoft Plus! and WinZip.
File Size: 1,750,249 bytes
Date: May 25, 1998
Recommended Display: 1024x768 at 16 Million Colors
---
So you're probably wondering.. "Why did this guy make another Friends Desktop Theme?" and "Why should I get this one, instead of what I already have?".
Well, whether you are or not, I'm going to tell you anyway. A while ago, I decided to look for some Theme Packs dedicated to one of my favorite sitcoms, but the results have been somewhat disappointing.
Icons
The first thing I noticed from the Theme Packs that are already available is the lack of icons. IIRC, none of the Theme Packs offered their own, Friends-related icons. Later on, I found out that there was a site that had a few icons available, but the "package" seemed less than adequate.
In this Theme Pack, I have a total of 14 icons; two for each Friend (namely, Chandler, Joey, Monica, Phoebe, Rachel, and Ross), and two additional icons for Central Perk. This way, you can have two separate icons for the Recycle Bin, but of the same person/thing.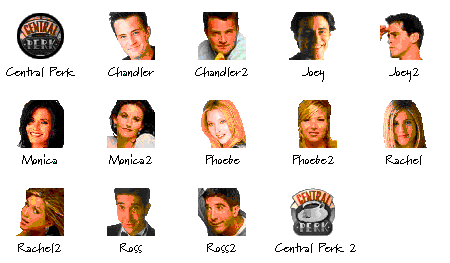 These icons are all stored in one DLL file, and has variable sizes of 32x32 and 48x48 (for large icons if you're using hi-res).
---
Mouse Cursors
The next thing I noticed is the lack of animated mouse cursors. Sure, there were some, but they didn't seem quite right.
As you know, the guys in Friends have had quite a few different kinds of pets, including Marcel the Monkey in Season One, plus the Duck and the Chick in Season Four. I thought animated cursors with Friends' pets theme would be nice, so I made the following:
| | | | | | | | | |
| --- | --- | --- | --- | --- | --- | --- | --- | --- |
| Marcel.ani | | Marcel_Wait.ani | | Busy_Monkey.ani | | Dancing_Monkey.ani | | Chick.ani |
---
Start-up and Shutdown Screens
As I went on, I also noticed that these Theme Packs didn't have any files that would alter the Startup and Shutdown screen for Windows 95, which is understandable, since the Desktop Themes feature in MS Plus! doesn't offer such a change. Still, I had been using another Theme Pack before, and have therefore been spoiled with Startup and Shutdown screens that were better than the plain-old ones we had for Windows. So I set out to make my own, as well. Upon completion of these files, I found a site that also had something similar as add-ons, but it seems like the Startup screen offered by that site doesn't animate. Aside from "looking cool" with scrolling animation, some people need to see the scrolling colors during startup, so that they know that the system didn't freeze during startup... So I guess it's a good thing I've already made these files...
| | | |
| --- | --- | --- |
| logo.sys | logow.sys | logos.sys |
---
Other Tid-bits
...and of course, after all that, there's also the wallpaper(s) and the sound events. Quite obviously, if you find an image you like on the Internet, you can easily set it to be your wallpaper. But since I want to be complete, I've taken some time to modify some of the files I liked, so that they would be better suited for wallpaper purposes. For this, I have created two wallpaper files, which you will be able to select through Desktop Themes. You should be able to see thumbnails of them (as well as the color scheme I used) on the right. An enlarged version of the thumbnails can be viewed by clicking on the thumbnails.
As for sound events, they are mostly recorded from the Fourth Season, which, I guess you probably won't find elsewhere on the net.
Finally, there's also the screen-saver and the true-type font.. These, I did not create myself. In fact, if you're a somewhat avid online Friends fan, you probably already have them..
However, assuming for the lowest common denominator, the screen-saver is included in this Theme Pack. I assume this is okay, since it is publically available as freeware.
As for the font, I'm using "Marydale," which has been recommended by many Friends fan websites as being very close to the "Friends font." I have had this font sitting around in my system for quite some time, I guess it must've been added with one of the word processors I installed, but since not everyone would have this font on his/her computer, I'm including it in the Theme Pack, as well. This will minimize the possiblity of errors occuring when you install the theme.
---
Before you download the file, please read the readme.txt file for installation instructions.
Make sure you have the Windows 95 version of WinZip, so that you will have long filenames after extracting the files.
Also, please note that Microsoft Plus! or something else that can let you have themes is required. Although this Theme Pack was created for use with Microsoft Plus!, there are also freeware & shareware that can give you such features without the need of Plus!... You can search for and download the tool you'd like for this job at SoftSeek.
Download:


(1750249 bytes from one of these sites)
I'd suggest you try to download from ezthemes first; it's probably the fastest one, since they were setup specifically for hosting themes. If you try to download from The Friends Place, I'd prefer if you could pay them the courtesy of a visit..
My apologies to my earlier visitors (around the first 60 or so), for I forgot to include the icons file in the zip file (windows hides DLL files, so I completely forgot).. If you don't see the icons when you try to apply the theme, please download the icons file here.
---

Other Friends Sites
Before I started this project, I first checked out various Friends sites, scoped out the newsgroups, to see if it was necessary for me to make my own version of a Friends theme pack. I visited many sites, and found the following to be the most helpful in my creation of this theme.. Check them out!
Please note that the above list of sites are sorted in alphabetical order, not any kind of rank. They're all very good sites in my books! :)
A special thanks to Aaron (of The Friends Place) and Steve (of Themez) for helping to publicize and mirror this theme pack.
---
©1998. This Theme Pack was created by Glenn Wang. Visit my homepage!
AFAICT, "Friends" is the copyrighted property of the National Broadcasting Company and Warner Brothers; images & sounds used without permission.